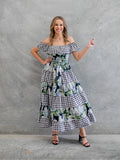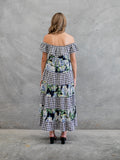 Lolita THIS ITEM IS A FINAL SALE- PLEASE CHOOSE CAREFULLY
This tiered maxi dress is a clash of two different, but matching fabrics - this time it is Black and White Gingham and a gorgeous print of Ginger Jars.
I've designed the tiers to sit nicely on most shapes and sizes. There is a side zip on the top of the dress and a detachable sash.
There is a frill  that goes the circumference of the top.
Lolita is the same style as the Gypsy and Cara Cara dresses but is made from a combination of cotton and polyester.
Fabric 1 is 30% poly and 70% cotton.
Fabric 2 is 100% cotton.
SIZING and FIT DETAILS 
If you own the Gypsy or Cara Cara dresses, I would recommend sticking to the same size. Please note that the cotton fabric is firmer than the Gypsy or Cara Cara dresses.
Small - Bust 48cm Waist 42cm Hip 60cm Length 125cm
Medium - Bust 53cm Waist 45cm Hip 63.5cm Length 126cm
Large - Bust 58cm Waist 47cm Hip 66cm Length 126.5cm
X Large - Bust 60cm Waist 52cm Hip 71cm Length 127cm
XXLarge - Bust 63cm Waist 54cm Hip 73cm Length 128cm